Moodpath & MindDoc
From 2018 to 2021 I helped create and build Moodpath, used by more than 4 million people, and integrate it into MindDoc, Germany's leading online therapy provider.
Moodpath was the project that concinved me to stop being a freelancer and join a company. I was working with the founders right from the start, and I loved being able to help shape the product and company . Later on Moodpath, now being used by more than 4 million people, was bought and integrated into MindDoc, Germany's leading online therapy provider.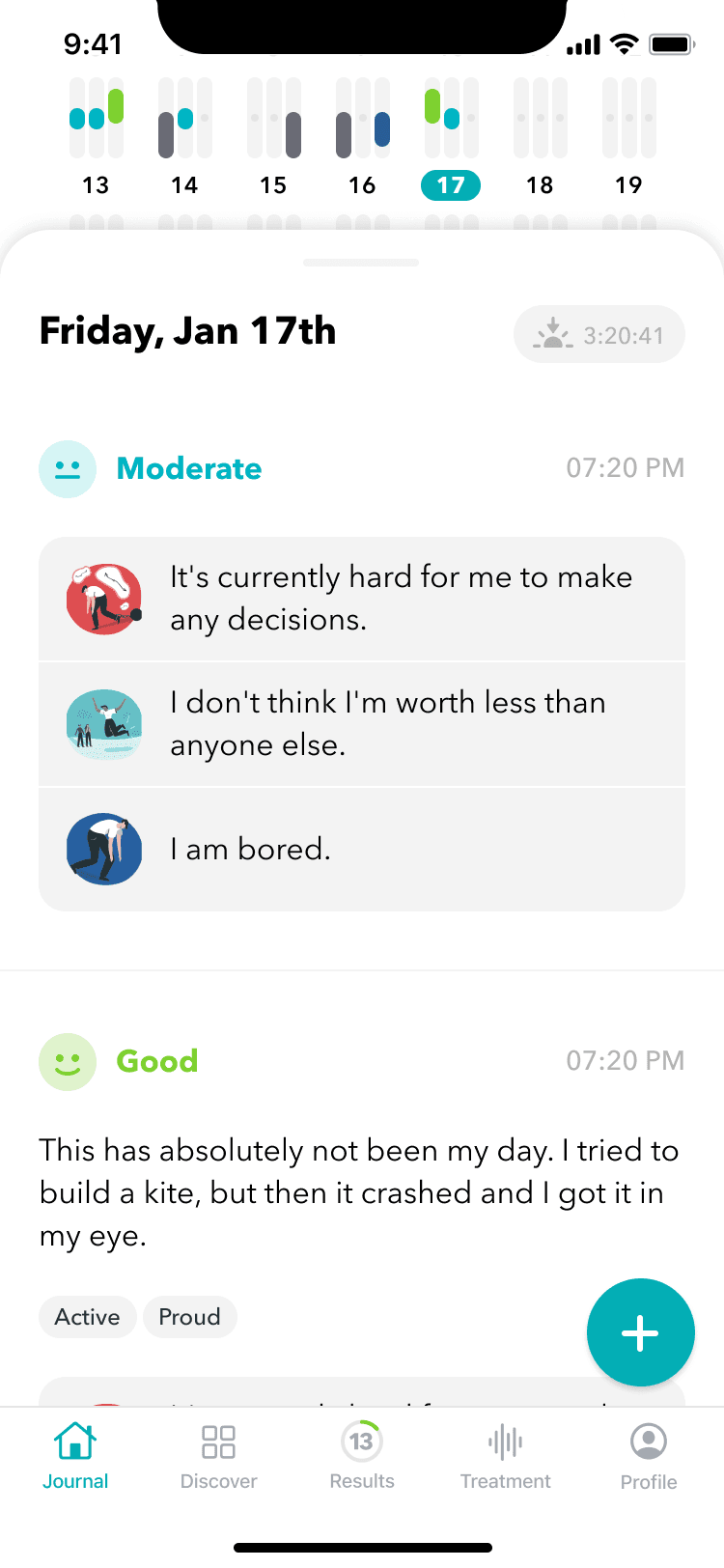 The journal. An overview of everything that's going on with your mood and what you're thinking about.
Your Mental Health Companion
The app's main goal is to help people track their mental health and wellbeing. It was designed to be a daily companion that guides you through your emotional journey. It was built with a strong focus on privacy and data protection and helped people to understand and visualize their emotions and how to improve their mental health.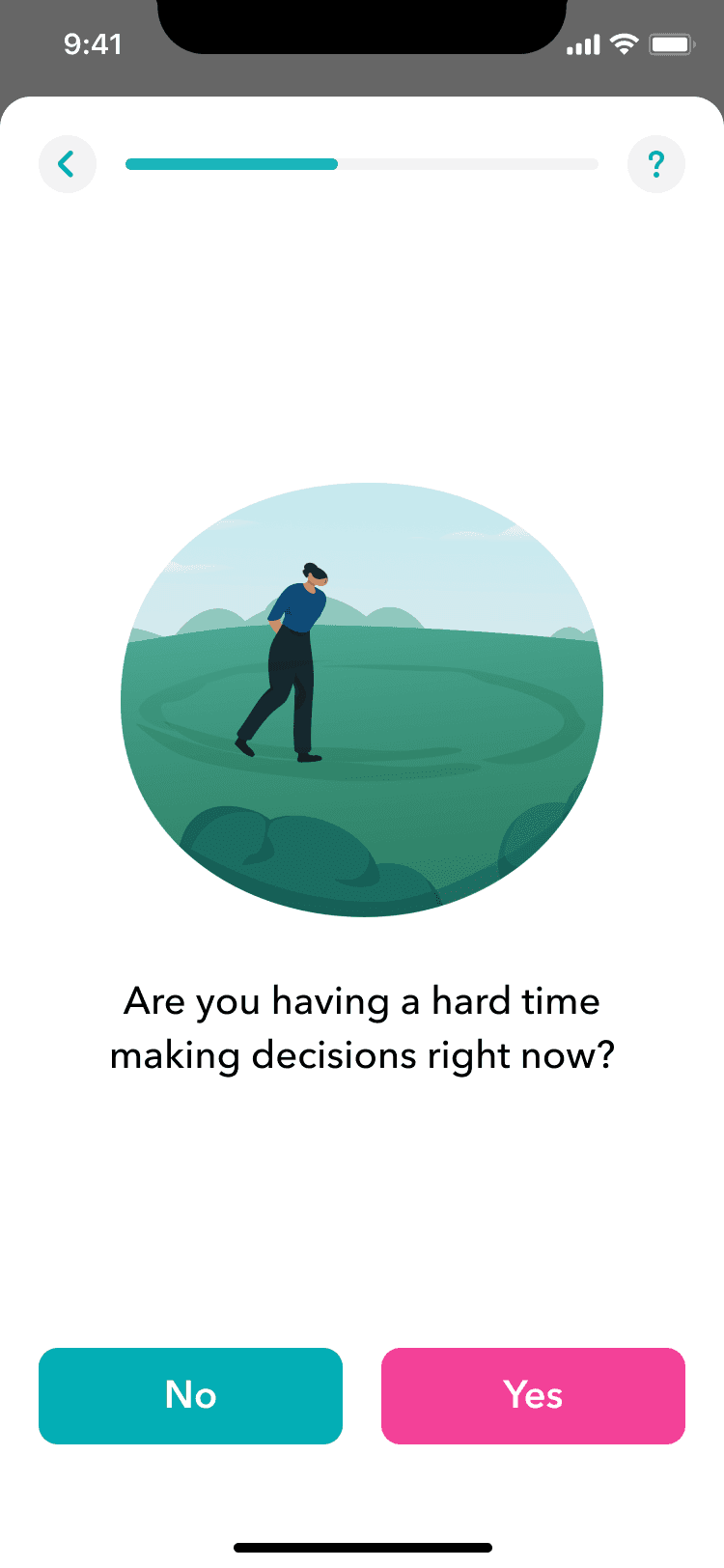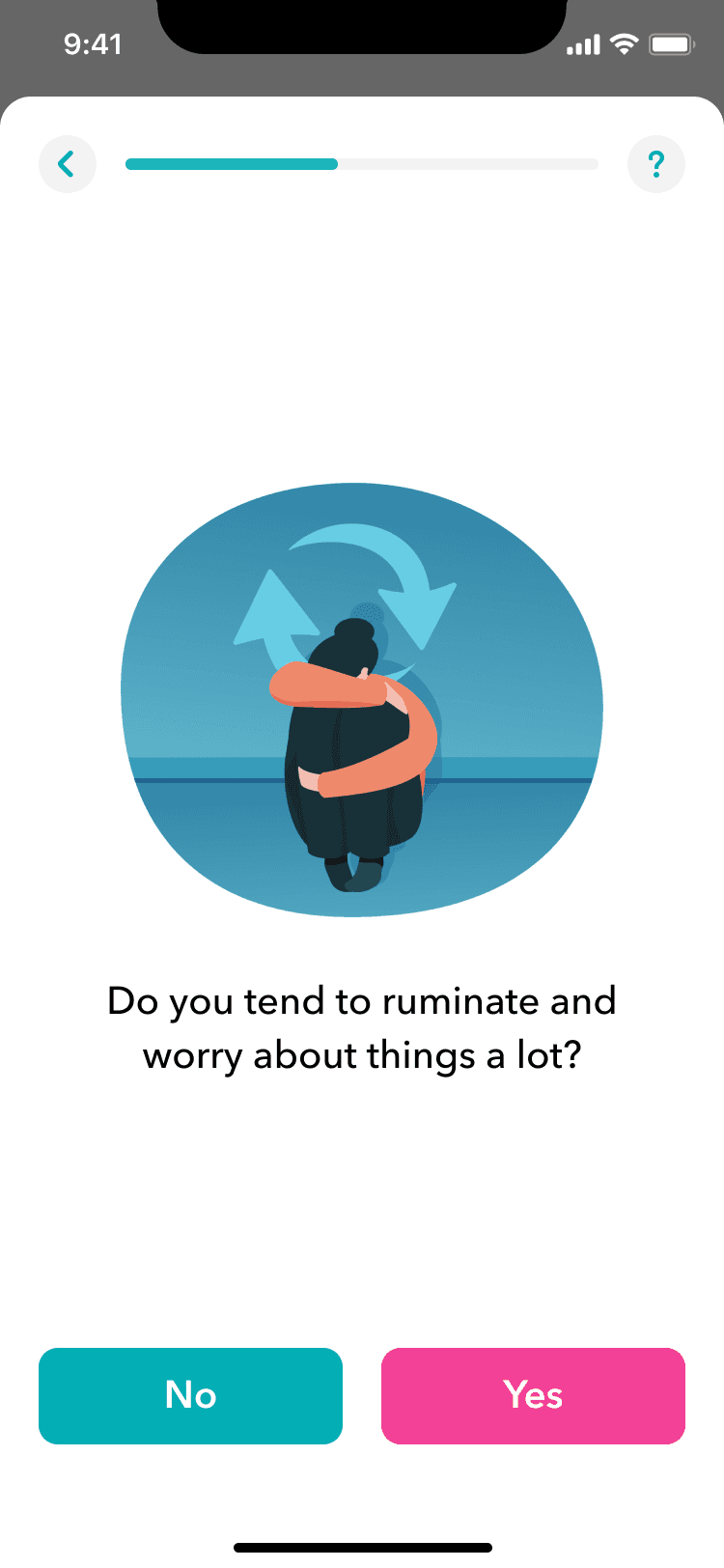 The app asks you a couple of questions three times a day. The questions are dynamically generated based on previous answers and existing medical conditions. All questions were written by psychologists. The answers are used to create a bi-weekly report that shows people if they display symptoms of depression, anxiety, or other mental health conditions. The report also shows how the user's mood has changed over time and what topics they've been thinking about.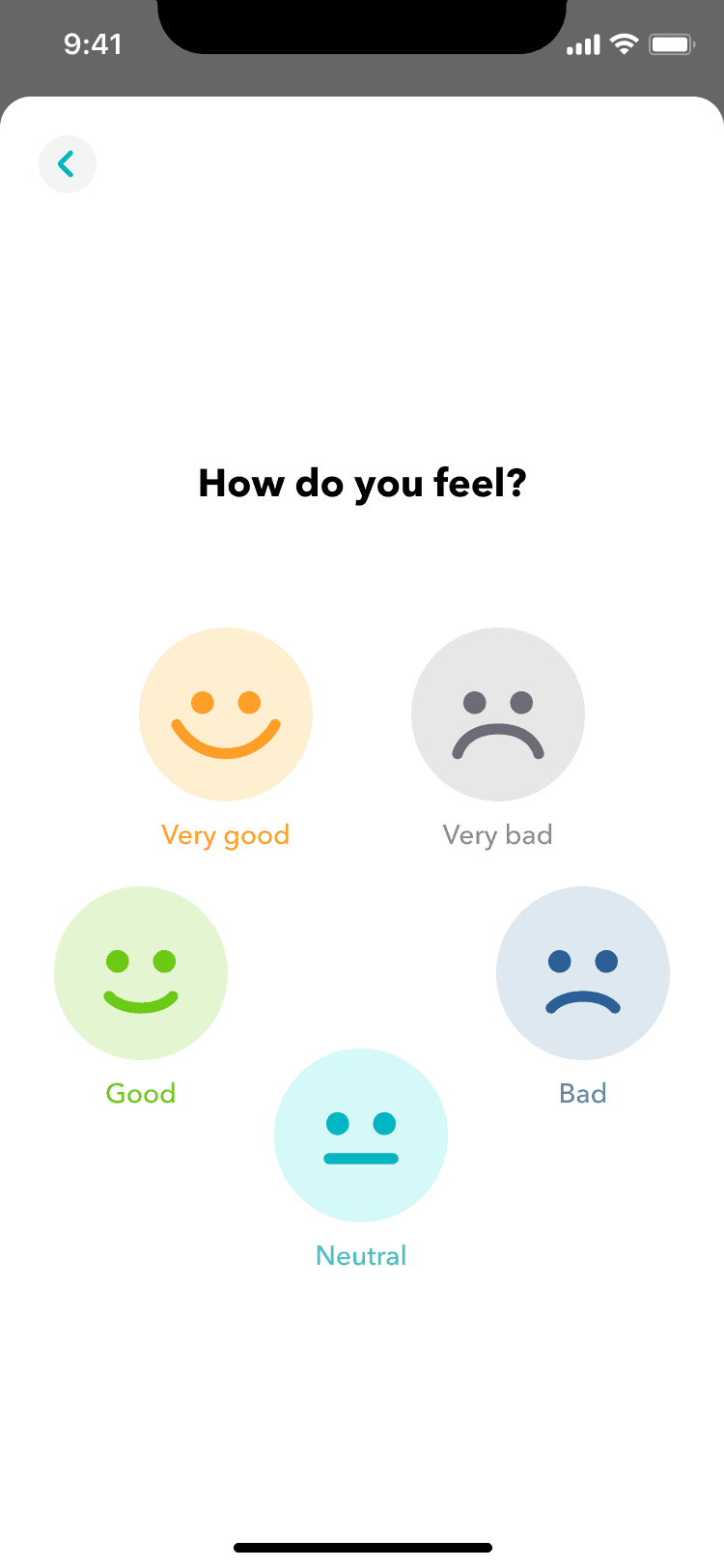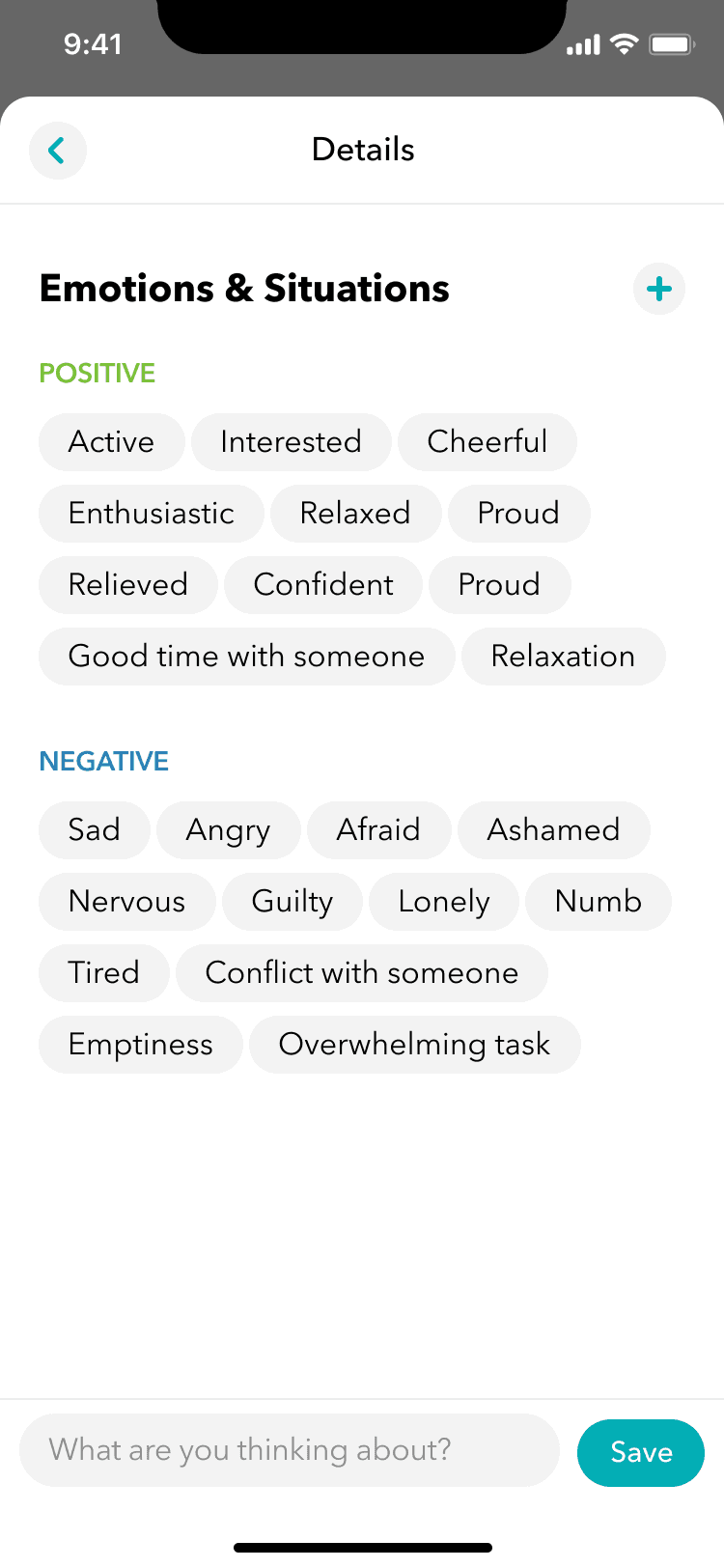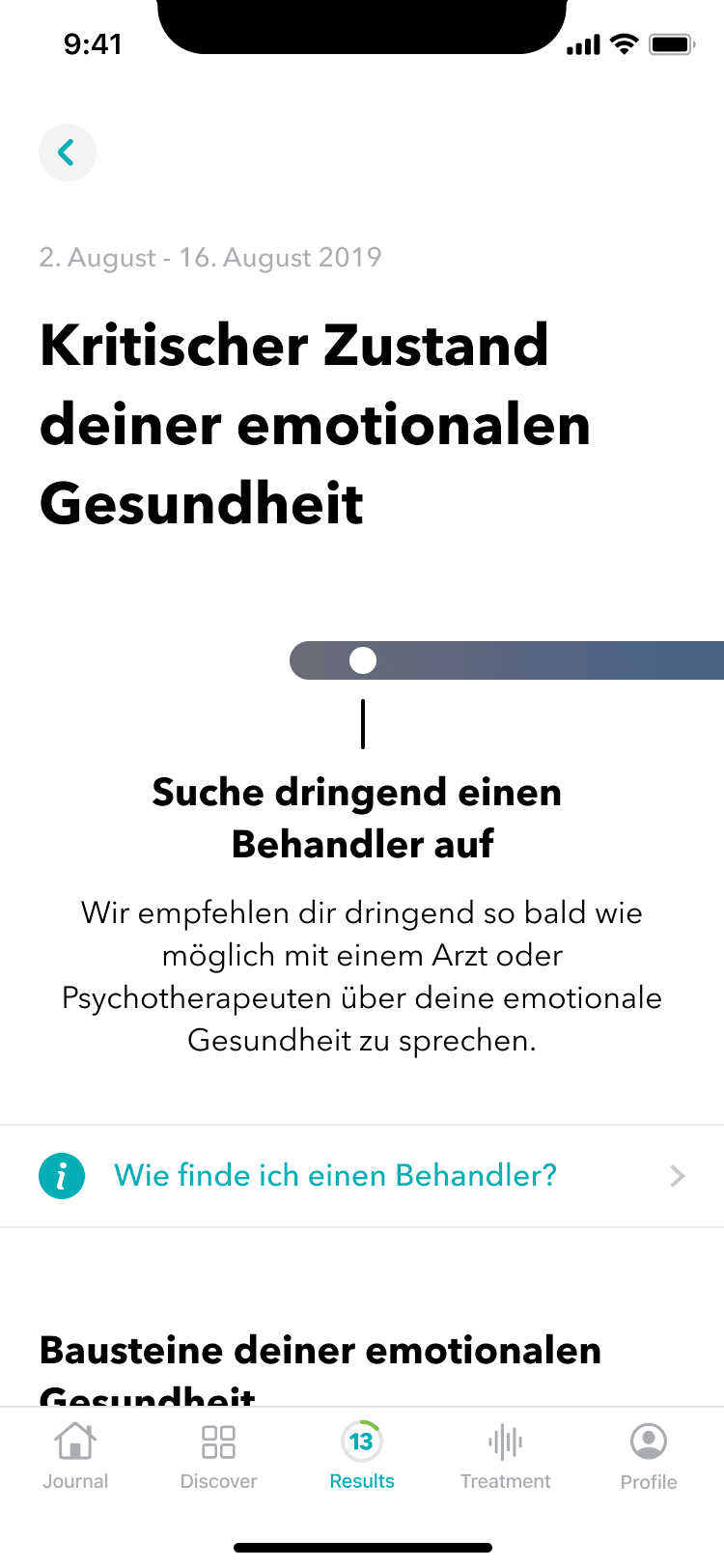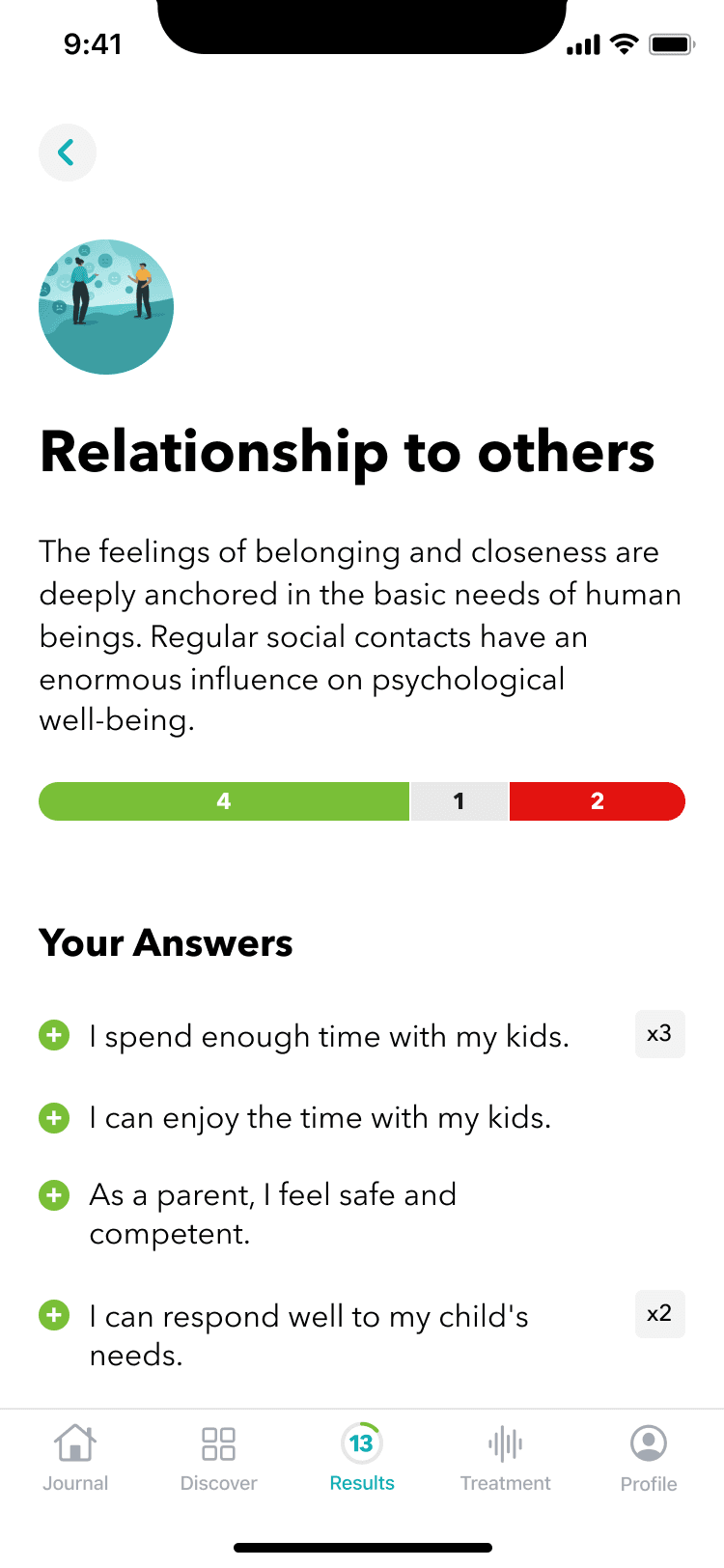 The app's content section offers a variety of articles, videos, and podcasts that are written by psychologists and experts in the field of mental health. The contents are meant to help people understand their mental health and wellbeing better and to provide them with tools to improve their condition over time.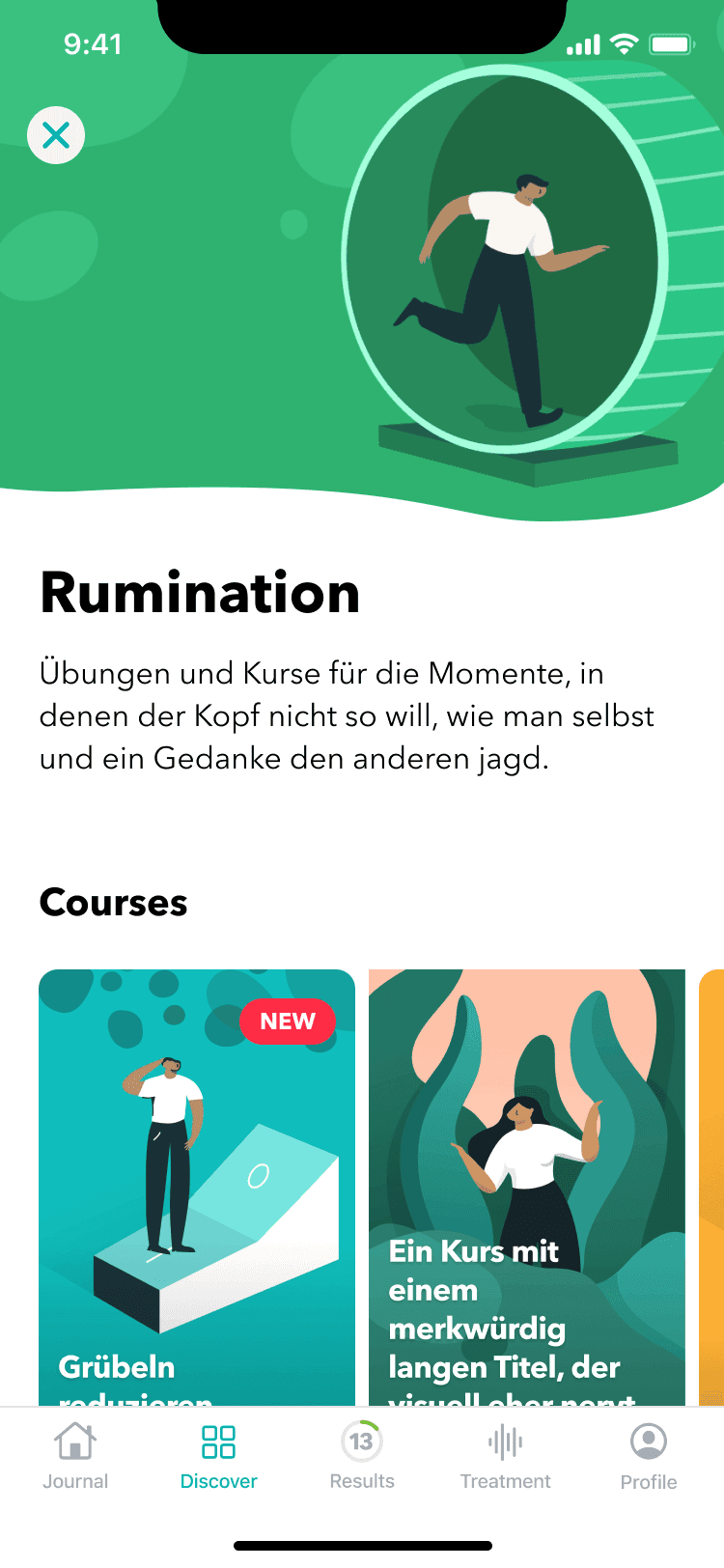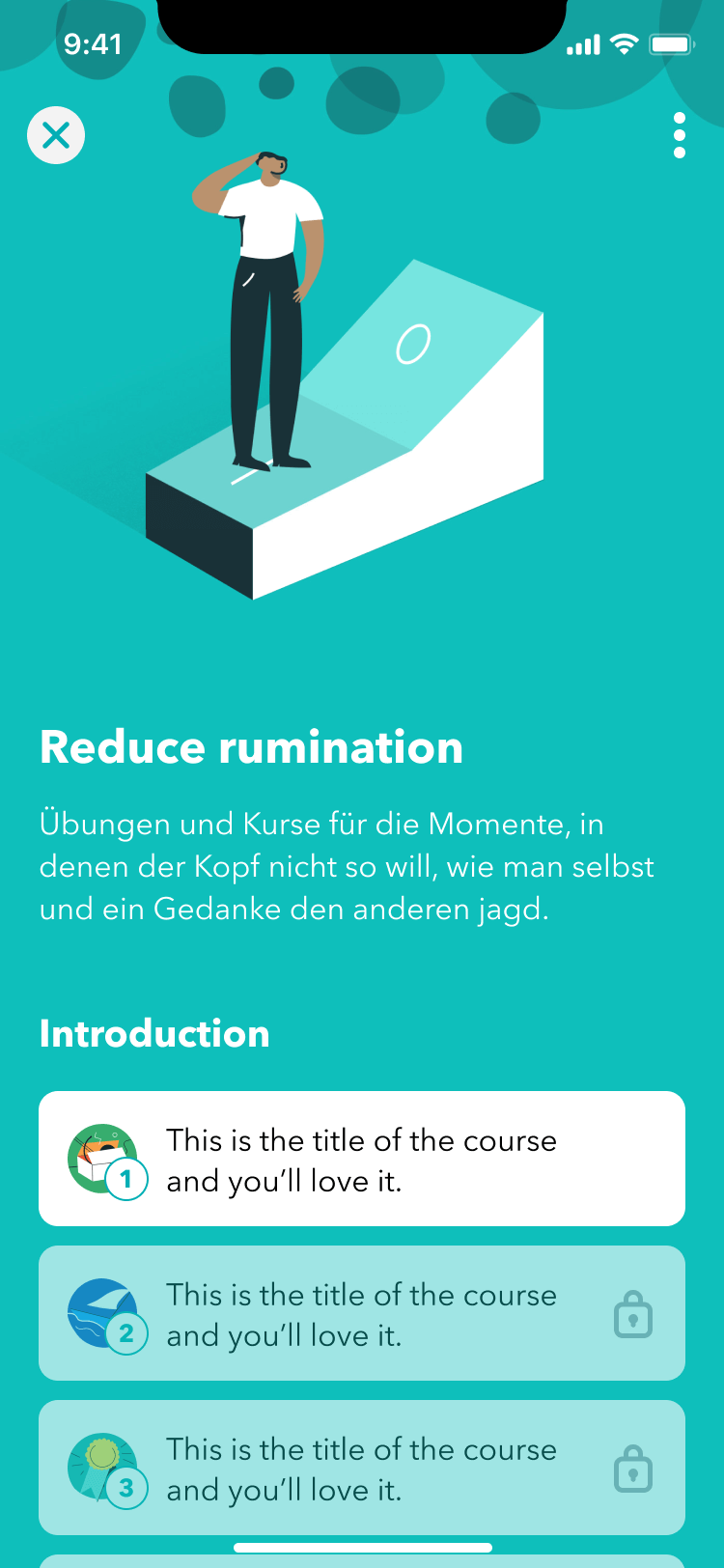 The Online Therapy Platform
MindDoc's core product is an online therapy platform that connects people with therapists . Finding a therapist is still a very difficult task in Germany. MindDoc's goal is to make it easier for people to find the right therapist for them, no matter where they live.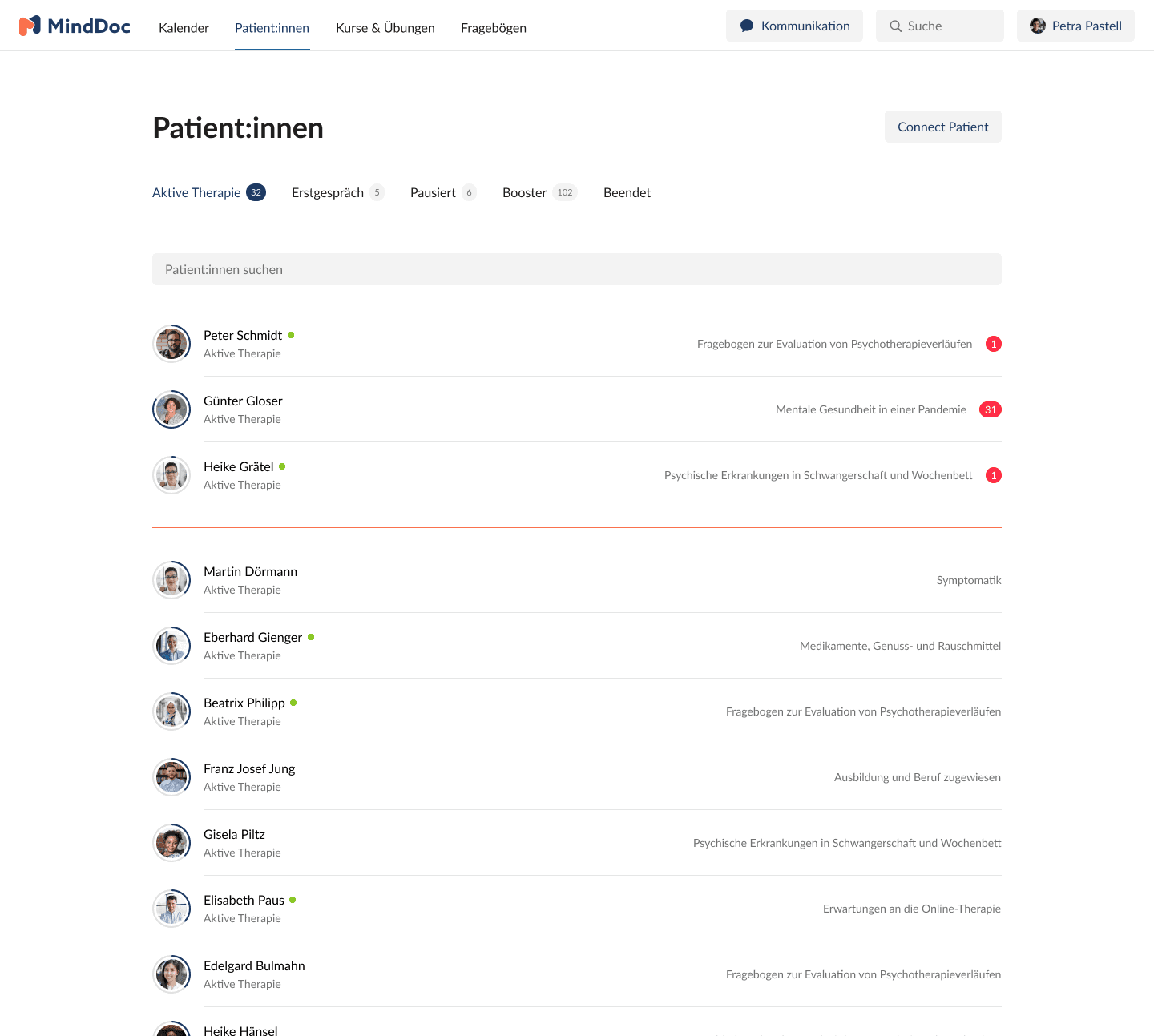 Therapists use this overview of all their patients to get a birds-eye-view of how everyone is doing.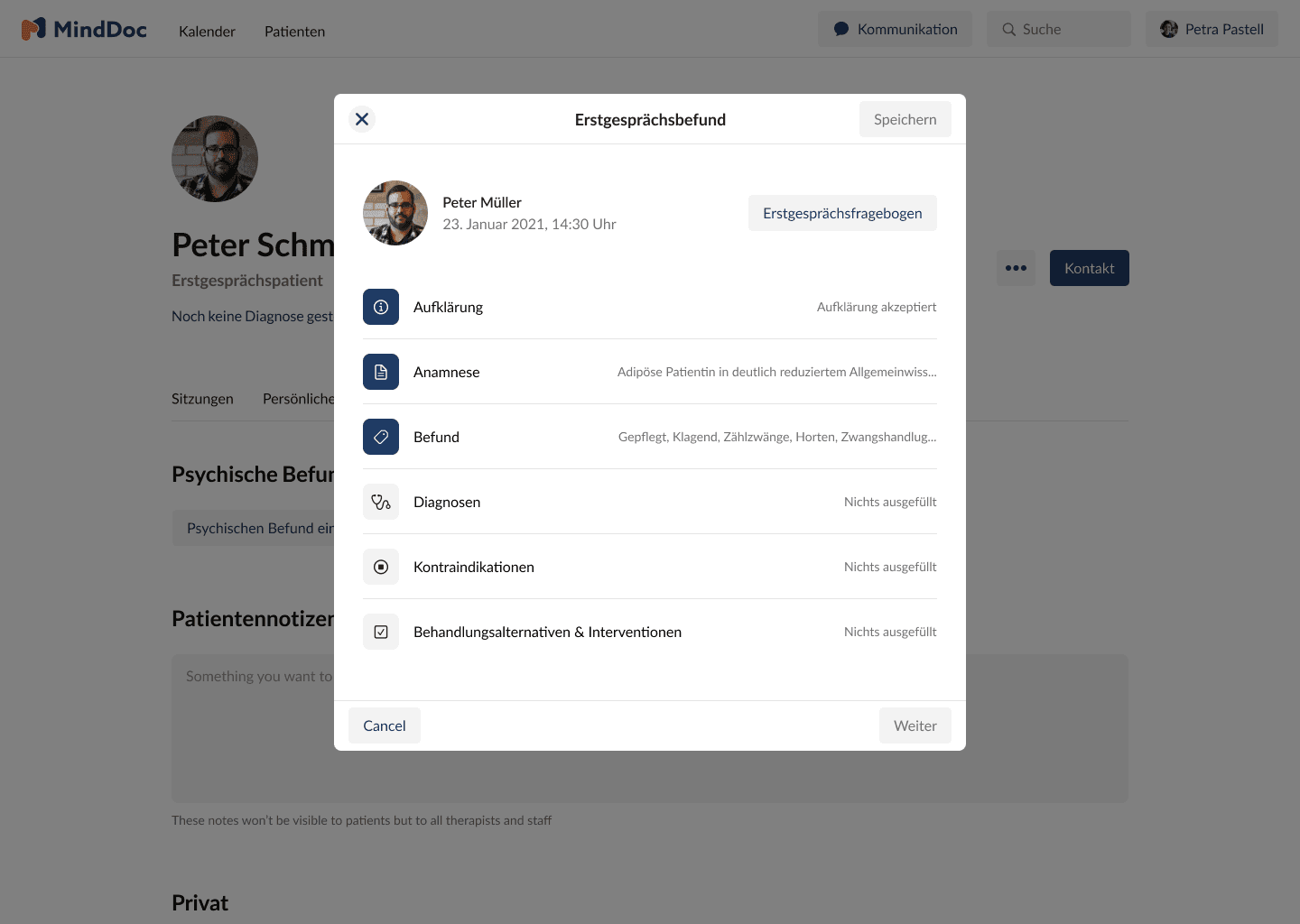 After MindDoc aquired Moodpath , I was tasked with integrating the app into the MindDoc platform and reimagining the platform as a whole. One of the primary goals was to create a custom session booking system to make it easier for therapists to schedule sessions with their patients and for MindDoc to save money on booking fees by third party providers. (It worked!)
Communication features enable therapists to stay in touch with their patient.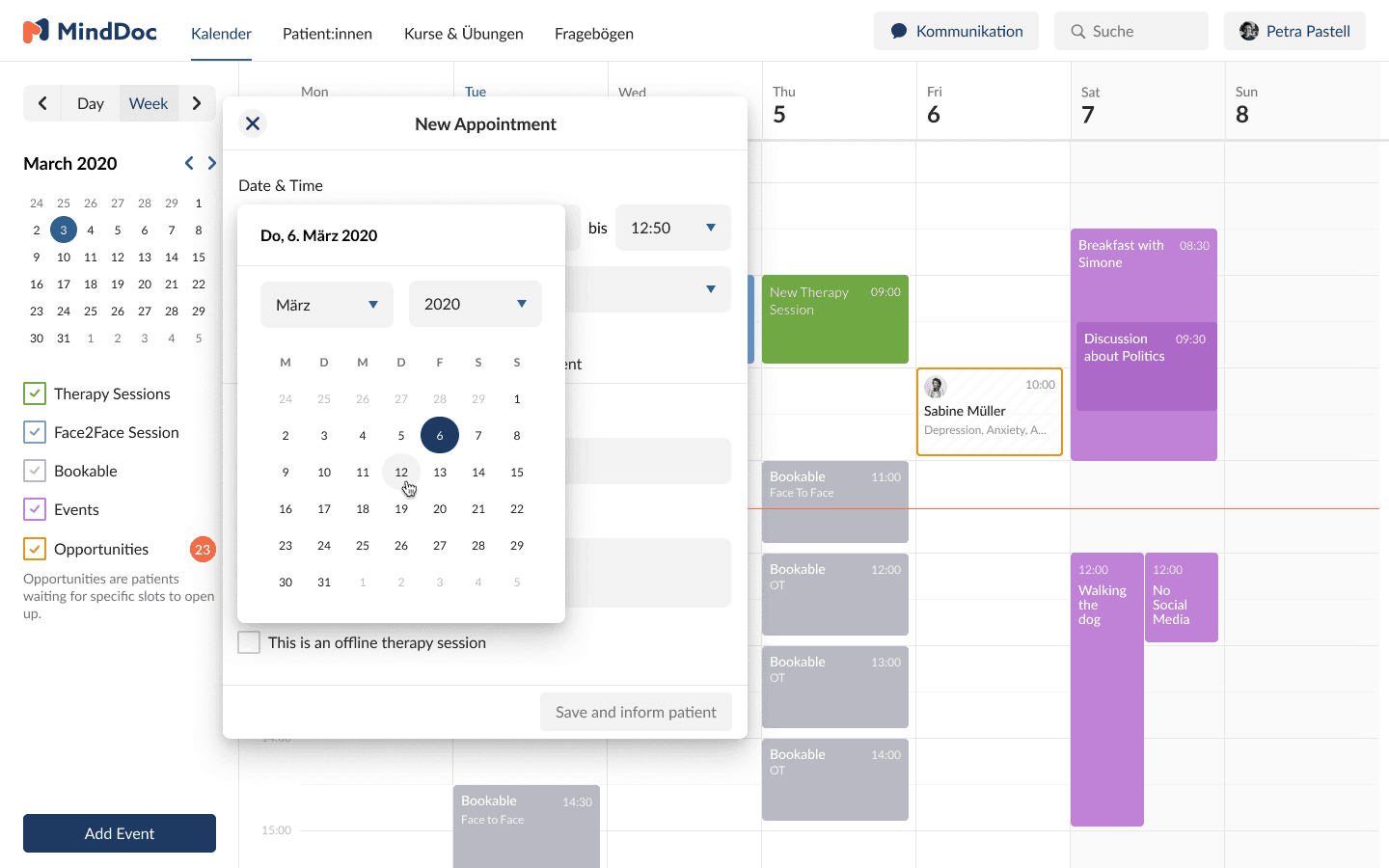 The custom booking system solution was build on top of the MindDoc platform to make it easier for therapists to schedule sessions with their patients.
Working on Moodpath and MindDoc was one of my greatest professional pleasures. It was a great opportunity to work with a small team of very talented and motivated people. I'm very proud of what we've accomplished and I'm happy to see that the app is still being used by so many people.